Imagining a World without Food waste event, York, UK
On Tuesday 12th June 2018, in collaboration with the York Environmental Sustainability Institute (YESI) – Agrimax and the BioVale innovation cluster hosted an exciting and topical event as part of this year's Festival of Ideas – 'Imagining a world without food waste'.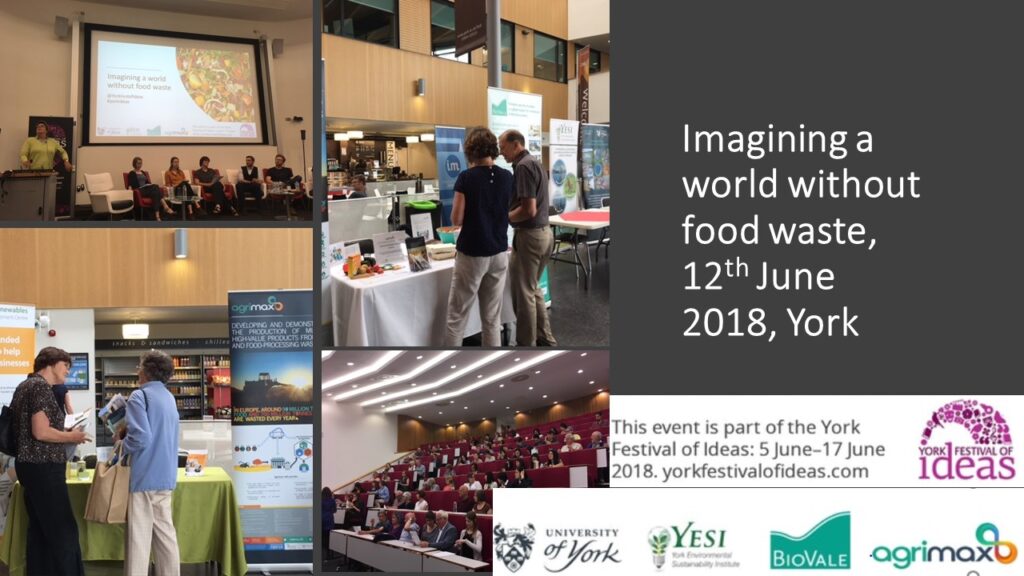 The issues around food waste are increasingly evident and are a growing focus of attention for researchers, government, the media and the general public. In Europe alone, around 90 million tonnes of food and 700 million tonnes of crop are wasted every year. Agrimax is an EU-funded project that is developing and demonstrating the production of multiple, high-value products from crop and food-processing waste. The project will maximise the EU's sustainability, while providing new bio-based compounds for the chemicals, food-packaging and farming sectors.
'Imagining the impossible' was this year's Festival of Ideas theme and Agrimax, BioVale and YESI wanted to raise awareness of food waste and to even imagine what a world without food waste would look like. During the event, the general public joined an expert panel from industry, policy, academia and non-governmental organisations to discuss the challenges and opportunities of preventing food waste across the food supply chain. The panellists included:
The audience Q&A at this event was excellent, with some really thought-provoking questions. Areas covered included the effect of Brexit on food waste; meat-based diets vs plant-based diets; plastic vs food waste; best before dates; where responsibility lies and much more.
The overarching message was that the onus doesn't lie on one stakeholder in the food supply chain. Julieta from Policy Connect highlighted the complexity of the food system and the need for all actors to work in collaboration whilst Carrie Bradshaw from the University of York stated there is only so much the consumer can do: our regulatory, legal and policy environment must change too. Maggie Smallwood from BioVale and Joe Bennett from the Biorenewables Development Centre highlighted the importance of focusing not only on avoidable food waste, but also on unavoidable food waste i.e. products which can't ever be consumed but can have real value.
The discussion was wrapped up with a closing statement from each of the panellists, providing tips for the audience to tackle food waste. These included:
Buying produce to support the campaign against waste e.g. wonky vegetables, Toast Ale (made from surplus bread)!
Challenging the status quo by going to your local MP or joining campaign groups
Considering a plant-based diet
Teaching children about the value of food and waste
Changing your behaviour e.g. shop locally, produce a shopping list, freeze perishable goods
The event ended with an exhibition to showcase alternative uses for food waste which included samples of biobased products from the Agrimax project for the food, farming and packaging sectors. The event was topped off with a serving of 'surplus food' soup made from grade B asparagus destined for landfill but made into a very tasty snack!
An audience member from Scalby and Newby Women's Institute (WI), Scarborough, North Yorkshire said 'This has been a great event and I hope people will use the tips provided today. Food waste is a key focus of the WI and we are lobbying Parliament to address the issue.'