Construction of groundbreaking new waste biorefineries enters the final phase
Around one-third of all food produced each year is wasted and a significant proportion of this is at the field and food processing levels. In Europe, around 90 million tonnes of food and 700 million tonnes of crop are wasted every year. The EU-funded Agrimax project is addressing this problem by developing novel processing plants – biorefineries- that will convert residues and by-products from crop and food processing waste into a range of innovative biobased products for the food-packaging, chemical and agricultural sectors.
The first biorefinery located in the North of Italy and hosted by family-run farm Chiesa is almost ready to start processing waste from tomatoes and cereals to produce lycopene, ferulic acid, cutin, and hydro compost. In Southern Spain, another biorefinery at fruit producers Indulleida will do the same for olive and potato waste to produce polyphenols, fibres, protein and aroma recovery.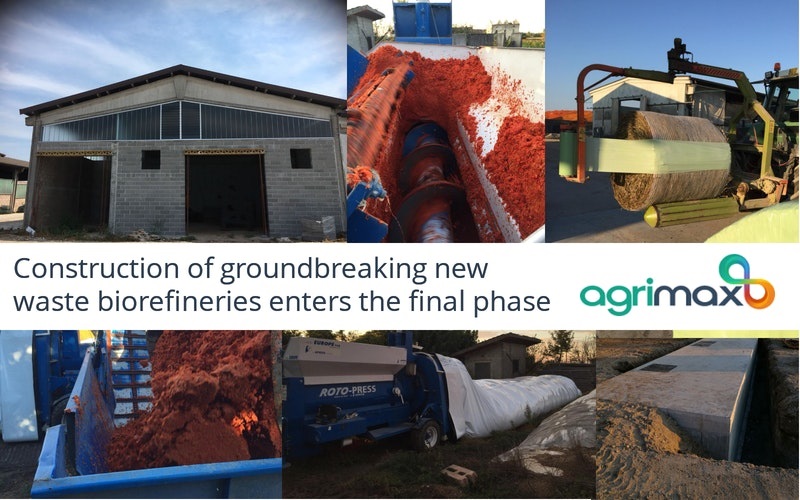 The biorefineries are adopting novel methods for coordinating and managing the provision of waste feedstocks to the pilot plants. The plants are designed to accept multiple feedstocks and an online stakeholder platform, developed by the Spanish engineering company IRIS, will coordinate the provision of waste from many regional producers. This will help maximise the use of the pilot plants throughout the year and address seasonal and regional fluctuations, thereby maximising efficiency and profitability.

The Agrimax project is involved in detailed work to define sustainable value chains and propose suitable business models for the new, biobased supply chains the project is creating. This includes investigating whether such biorefineries could be run by agricultural co-operatives.
For further updates on the biorefineries keep an eye on our website and Twitter feed. If you are interested in converting your wastes or testing our products, please get in touch with us!